Capture the Sky - May 10 to 14

[GM]Moony
The Book Eater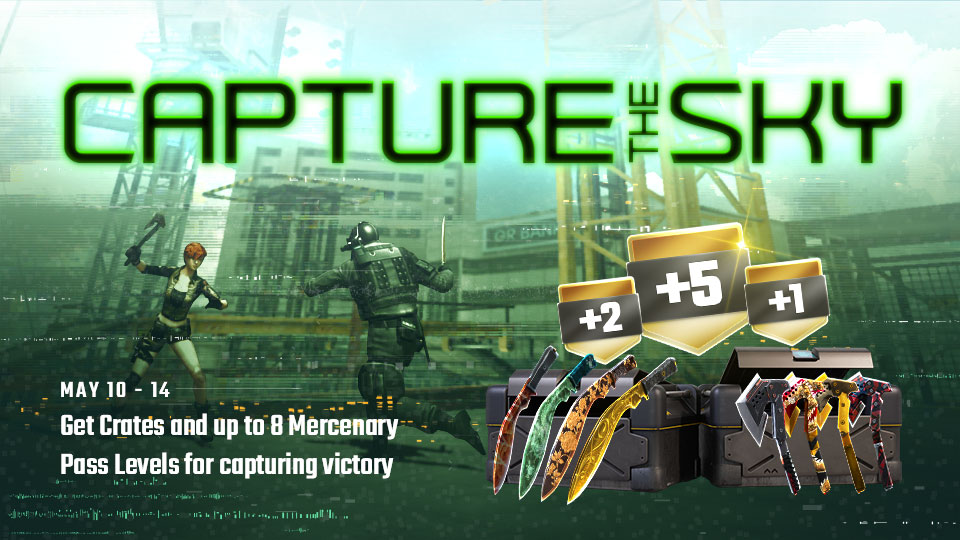 Attention Mercenaries,
Last week, when we were doing our daily routine, our trainer told us:
"Keep going, you never know how high I am setting the bar next time"
At first we thought it was metaphorical, just a motivation to improve,
Right now, we are not so sure... This bar looks kinda
*high*
to me
*Moony avoids looking down while the air currents move everything*
From
May 10th until the 14th
, convince yourself that vertigo is just an illusion or bring a solid harness for yourself, because the fight will happen way up high at the top of this skyscraper.
For this Event in particular, you will get rewards after completing different daily milestones if you play from 30 to 90 minutes on the new map
Tower Construction - Knife Elimination
:
After 30 minutes: 1x Kukri Collector Crate
After 60 minutes: 3x Kukri Collector Crates
After 90 minutes: 5x Kukri Collector Crates
For a total of 9 Kukri Collector Crates each day. But wait! There is more! If you play at least 30 minutes each day of the event, you will also get 10x Axe Collection Crates on the last day.
Remember that games must be completed and Password Protected rooms do not count.

Check your daily progress HERE. And don't forget the Seasonal Contracts you get on your Mercenary Pass HERE.
Next time someone tells you they are gonna set the bar higher, ask them if it's figuratively or not!
See you at the battlefield,
-CrossFire Team