Beasts and Blooms: VIP Presale - April 28 to May 9

[GM]Moony
The Book Eater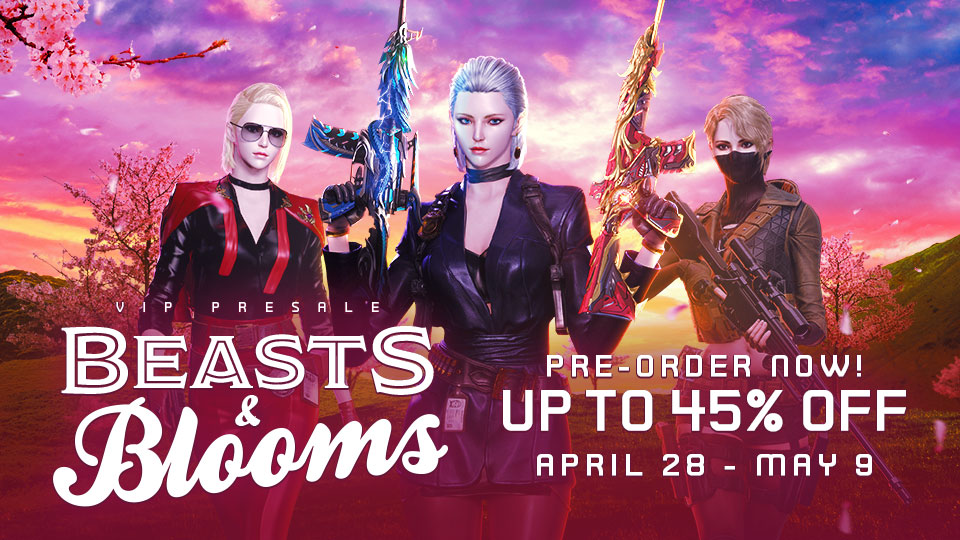 Attention Mercenaries,
We have secured a deal with a new provider,
They decided to remain secret for the moment
But the craftmanship they offer will impress you.
They even put us in contact with a new agent!
Do you think you can handle these Beasts and Blooms?
From
April 28th until May 9th
, we will be preparing our base to receive these new agents with all honors and the couple of powerful beasts they bring on this
VIP Presale
! Check what you can get before the May patch 
HERE
:
M4A1-S-Azurite Beast (125,000 ZP)
HK417-Spitfire Beast (100,000 ZP)
Magnolia (80,000 ZP)
During the presale, you will be able to purchase
each VIP 
up to 14 times
, but the new character 
Magnolia
 will be available only once
per account. If you want
to purchase any of the other VIPs
offered during this pre-sale,
you have to select at least one of the pre-sale items.
 The more items you get on the same cart, the higher the discount you will get!
Each one of the 3 VIP items
on this presale will include their
exclusive Namecard and Spray
, however, if you purchase more than one of them, you will get extra rewards as well:
If you get the Magnolia char and one of the two weapons, you will get the Dao-Tempest Dragon
If you purchase all 3 items, you will also get the unique Steyr TMP-Universal
Please keep in mind that
the exclusive rewards
(Namecards, sprays, Dao-Tempest Dragon and Steyr TMP-Universal)
can be earned only once
even if you purchase several duplicates of the VIPs, please also note that
you will receive the exclusive rewards if you purchase everything on the same check-out or at different times
. 
These are the other VIPs you can get on this opportunity:
AK-47-Knife-Steampunk
AK-47-Red Scorpion
9A-91-Wild Eagle
QBZ-03-Jewelry
Kar 98K-Electric Beast
M200 CheyTac-Dominator
AWM-Ironhawk
Raging Bull-Cyborg
Based on the original ZP price of the items, there will be 3 tiers with different discounts and the following bonus crates. You can select your crates in multiples of 10 from the tier(s) that you have unlocked with your purchase:

Tier 1: 80,000 - 179,999 ZP
30% Discount at the check-out and 30 bonus crates from 3 possible options:
Prime Beast 4 Crate
Oriental Dragon Crate
Masquerade A Crate

Tier 2: 180,000 - 229,999 ZP
40% Discount at the check-out and 60 bonus crates from 6 possible options:

Prime Beast 5 Crate
Harvest Noble Crate
Masquerade B Crate

Tier 3: 230,000 ZP or more
45% Discount at the check-out and 90 bonus crates from 9 possible options:

Rising Dragon Crate
Spirit Crate
Dragon Boat Festival Crate

Check the Promotional video and all of the available content HERE, and make your pre-order before it's too late!
NOTE: The Pre-sale VIPs and their exclusive rewards will be delivered during the May patch, while the crates and other VIPs will be delivered immediately after you complete your purchase.
See you at the battlefield,
-CrossFire Team