Femmes Fatales - January 6 to 16

[GM]Moony
The Book Eater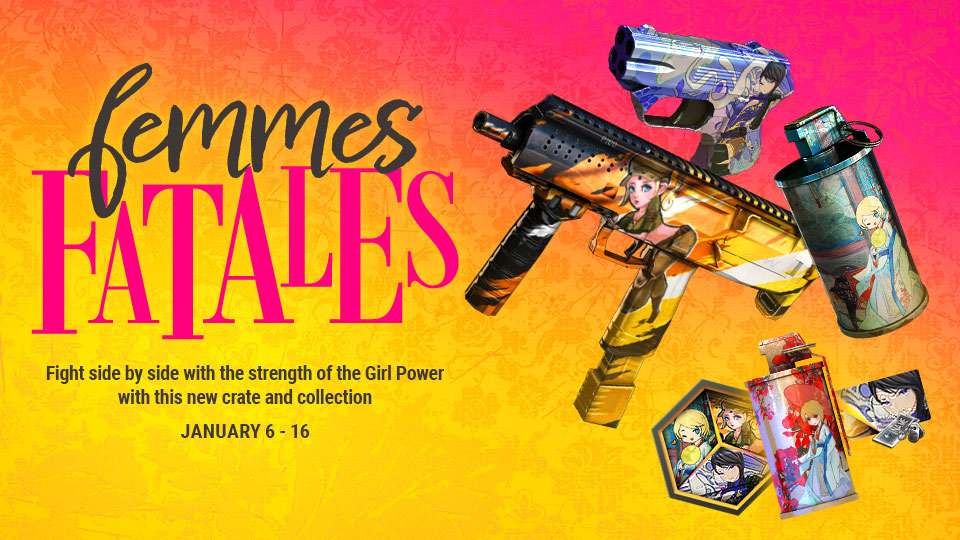 Attention Mercenaries,
Since a few months ago we have been thinking on changing some stuff,
So we asked ourselves: We always make weapons honoring seasons,
Even dragons, special beasts, but never our agents, why not this time?
And here we are: Featuring a new set based on some of our own people.
From January 6th to 16th, we present you the opportunity to get these weapons inspired in the most lethal women of our team... Don't let yourself be deceived by their pretty faces or you could have a hard time, they are the Femmes Fatales for something!
This new Girl Power Crate can be found at the Black Market in bundles of 5,10, 30, 50 and 100 crates each, and it has the following permanent weapons for you to win:
COP.357-GR Dahlia
Kinetics CPW-BL L.A. SWAT
Flashbang-Charming
If you complete all this new collection, you will also receive the Girl Power Namecard and the Flashbang-Red Parasol as rewards!
What are you waiting for? These girls are ready to fight and won't make you wait for them!
See you at the battlefield,
-CrossFire Team