Ribbon Rummage 2022 - January 4 to 16

[GM]Moony
The Book Eater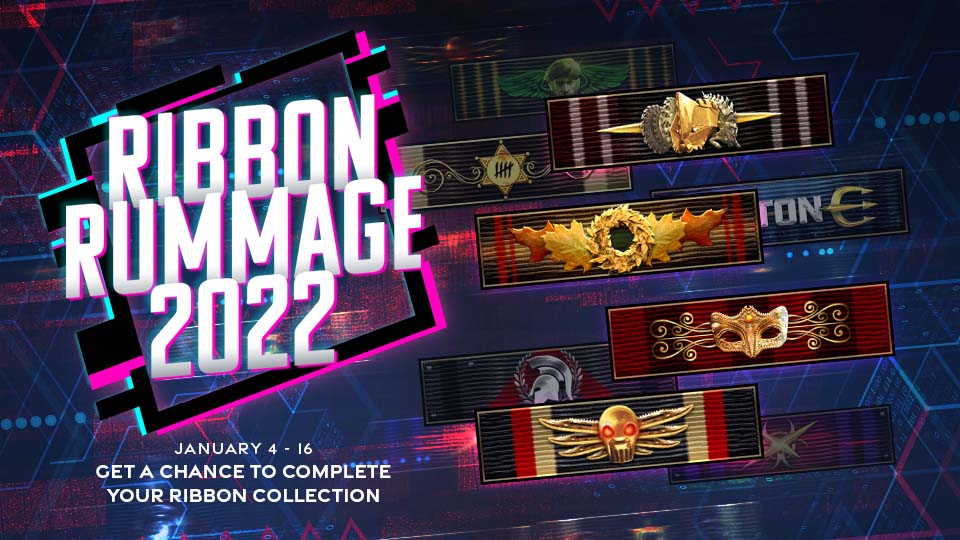 Attention Mercenaries,
We have been assigned a really important mission today,
Performing the annual maintenance of the Ribbon Machine!
Why don't we call a mechanic for this? You might wonder,
And believe me, we obviously tried, like, a lot of times
But since last year "grenade accident" they don't want to come...
Anyway... we can handle it... we have everything covered, literally!
*Moony takes away the dusty cloth protecting the Ribbon Machine*
From January 4th to 16th, this is the moment to complete your Ribbon Collection, be aware of each requirement so you don't miss any ribbon, but keep in mind that Password Protected rooms will not count, games must be finished and Bot maps aren't valid.
Harvest CrossFire
The time to collect your efforts is now, but it also means dedication and constancy!
In other words: Play 30 minutes on EACH day during the event.
CrossFire Iron Man
The winner won't necessarily be the faster, but the one with more stamina.
In other words: Play 15 hours TOTAL during the event.
Theatre of War
Lights... Cameras... and a LOT of action!
In other words: Complete 20 games on Dinner Theater and also play this map for 5 hours total at least.
Exterminator
Time to save the city before the plague gets out of control.
In other words: Complete 3 games on EACH of the 5 following Mutation Maps: Carnival, Rooftops, Mansion, Circus and White Moon.
Show Down Sheriff
"Are you afraid of duels?" -Said no one ever in the West.
In other words: Complete 5 games on EACH of the 5 following Maps: Western (Elimination), Mine Valley (TDM), Tombstone (Elimination), Alley Market (TDM), Mexico (TDM).
Operation Triton
Be ready for things to get nasty, you might need to take down a bunch of bad people here.
In other words: Obtain 50 kills on EACH of the 3 following S&D Maps: Sub Base (or Sub Base T), Port (or Port T), Union Station.
Silent Soldier
Forget your bazookas... for this mission, stealth is NOT optional.
In other words: Play at least 10 hours on any Ghost Mode Map.
A Hero Emerges
Only if you can stay alive until the very end you will know what real power feels like!
In other words: Complete 200 games on Hero Mode or Hero Mode X.
Devastated City
This city might be ruined already, but don't let that spoil the fun of cleansing it from zombies!
In other words: Play at least 4 hours on Devastated City, get at least 2,000 zombie kills and beat Atlas at least 5 times.
Remember that each Ribbon should be delivered within the next 48 hours after you complete all the requirements for each one!
Check HERE to know how is going your progress on each Ribbon!
*A greasy and sweaty Moony cleans his hands with a towel while smiling, as he finally finished the yearly maintenance of the Ribbon Machine despite all the extra bolts on the floor that should (not) have been installed back*
See you at the ribbon-field,
-CrossFire Team