New Year - Fresh Kills - Dec 27 to Jan 2

[GM]Moony
The Book Eater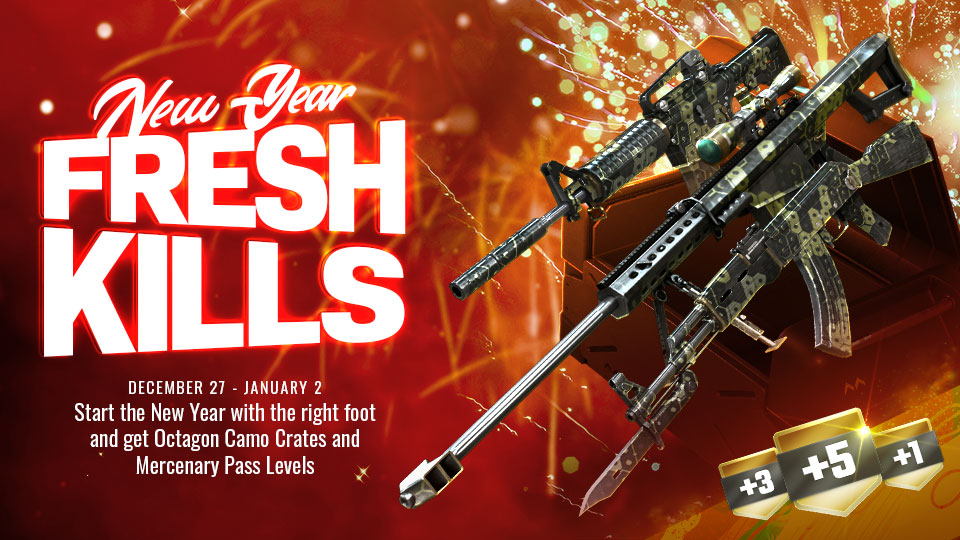 Attention Mercenaries,
*Alarms blasting* Calling in all agents for an emergency meeting at 2pm,
After all the time invested planning the End of the Year's Barracks Party,
We forgot that we needed to submit our New Year's Resolutions by today!
While we finish the last-hour office tasks in our base and set up the party,
What about a little challenge so you can set your goals for this year as well?
*Moony writes a few lines about growing a new beard and improving his aim*
From December 27th until January 2nd, we bring you the chance to pump your numbers and start the year with fresh and renewed goals to achieve.
If you complete all the following 8 contracts, you will receive 30 Octagon Camo Crates as reward, and also a few levels in your Mercenary Pass!
Obtain 100 kills with Rifles
Obtain 75 kills with Sub Machine Guns
Obtain 75 kills with Machine Guns
Obtain 75 kills with Shotguns
Obtain 100 kills with Pistols
Obtain 150 kills with Melee Weapon
Obtain 20 kills with Grenades
Obtain 30 Headshots
In total, you can get up to 12 Levels! Not bad for mastering each kind of weapon in the process, right?
You can keep track of your progress of these Limited Contracts in your Mercenary Pass.
Let's think on the bright side of this... Usually people want to lose some pounds as New Year resolutions, here all you have to do is gain kills! *Moony glances at the scale scared, hoping that all the Christmas parties and incoming new year parties will not impact his weight*
Happy New Year, mercenaries!
-CrossFire Team