A Wish Come True - December 10 to 31

[GM]Moony
The Book Eater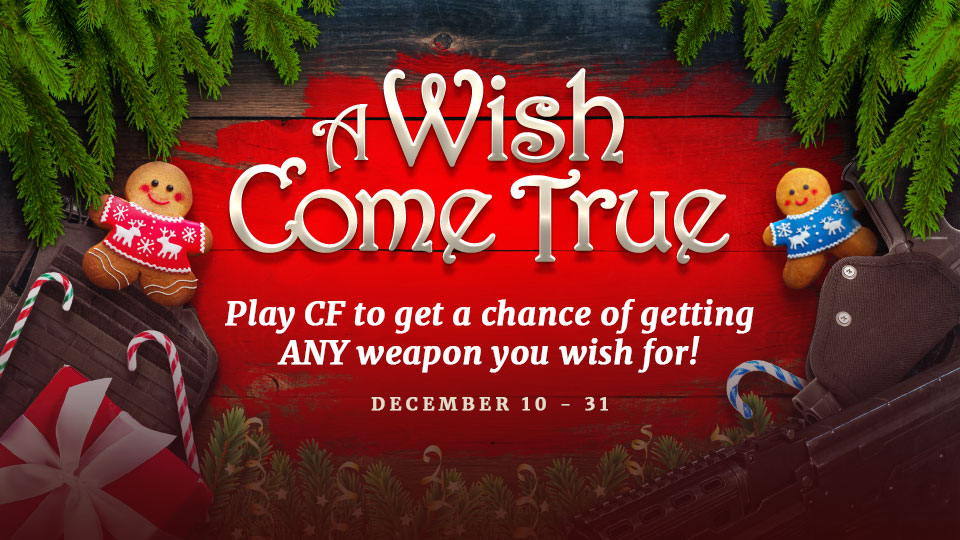 Attention Mercenaries,
Christmas is a time for sharing, caring and enjoying with close ones,
And here at CrossFire we have a holiday tradition that involves all:
Getting Santa to care enough to work more than 1 day on a year!
Let us do the work, and be ready to enjoy the magic of the festivities.
From December 10th to 31st, you have the chance of winning one weapon of your choice, anything you want as a Christmas present can be yours due to the influence we have on Santa's workshop (not exactly a military influence but you get the point).
All you need to do is play for at least 15 minutes on any 10 days during this time, and obviously, submit your Letter to Santa on time, selecting what weapon you would like to receive from the gift list!
Keep in mind that you can submit your wish before completing the play requirement, but only the valid letters that completed the playtime objective will be eligible to participate!
25 lucky players will be selected to have their wish come true after the Event finishes, winners will be chosen and published here during the first week of January.
Let your wish come true HERE.
Keep track of how many days you have completed the play requirement HERE.
Happy Holidays, mercenaries!
-CrossFire Team
Santa has received your letters and has granted their wish to the following players:
excitinq: Colt-Graffiti
stimav: M1A1 Carbine
Optical: AK-47-10th Anniversary
Emphy: Colt-Graffiti
Gwar: M4A1-S-Obsidian Beast
Cyber.need?: M200 CheyTac-Dominator
[T]oy: M4A1-S-Angel
beastyy: D.E-Xmas
Genobee: Dahlia-TMP-Eternal Dragon
Olla18: M4A1-S-Iron Beast
trash.NoAim: CM901
Re.inoleiN: Golden AK-47
[Ger] * [K]inG: M200 CheyTac-Dominator
Moonchild: SIG MG 710-3
NF_YHU: Golden AK-47
PanicDemic: Dahlia-TMP-Eternal Dragon
Killasteel: FR-F2 Halloween
aLan.: M200 CheyTac-Dominator
hkp30: Golden AK-47
win[IP]sec: AK-47-Red Scorpion
Metallikan: M16A2-Golden Camo
LionClaw.: M4A1-S-Iron Beast
Px] * Cheetah.: Desert Eagle-Obsidian Beast
AnLanBaby3: M4A1-E
L.S.Kennedy*: Bladed Knuckles-Infernal Dragon