Black Friday 2021 Razer Sweepstakes - November 24 to 28

[GM]Moony
The Book Eater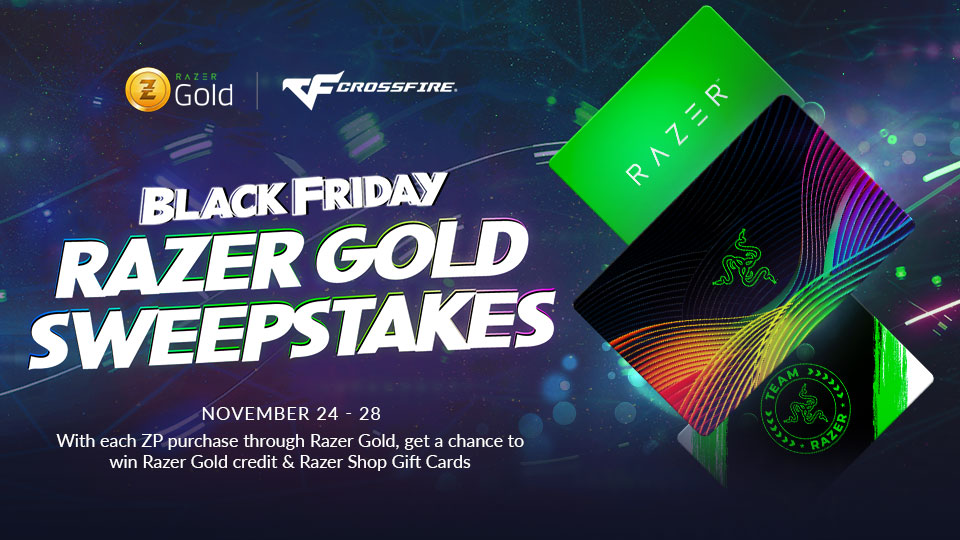 Attention Mercenaries,
Our friends from Razer are also preparing good news for you!
A new Sweepstakes raffle so you can get extra bucks for your purchases,
Participating is easy, and anyone can win... Do you feel the luck on your side?
During our Black Friday Event, from November 24th to 28th, you will be participating in a Razer Sweepstakes raffle for every ZP recharges you make with Razer Gold!
There will be 10 prizes to deliver among the winners:
3x Main Prizes consisting in 1 Razer Shop Voucher of 150 US$ + 1 Razer Gold PIN of 150 US$ each.
7x Secondary Prizes consisting of 1 Razer Gold PIN of 75 US$ each.
We will select the winners after the event has ended, and Razer will handle the prize distribution directly. The Razer Shop Vouchers will be available only for players in the USA, if you win this prize but you live in another country, you will receive the credit amount in your Razer Gold account!
How can you participate? Easy! You will enter the raffle automatically with your purchase when you use Razer Gold to recharge ZP, no need for any extra step, and you will get draws depending on the amount recharged: (each transaction is independent)
10,000 ZP > 1 Ticket
20,000 ZP > 2 Tickets
50,000 ZP > 6 Tickets
100,000 ZP > 15 Tickets
Ready to rock your Black Friday savings? Check all the things you can get HERE.
Good luck with the raffle!
See you at the battlefield,
-CrossFire Team