Black Friday 2021 Spray Bingo - November 24 to 28

[GM]Moony
The Book Eater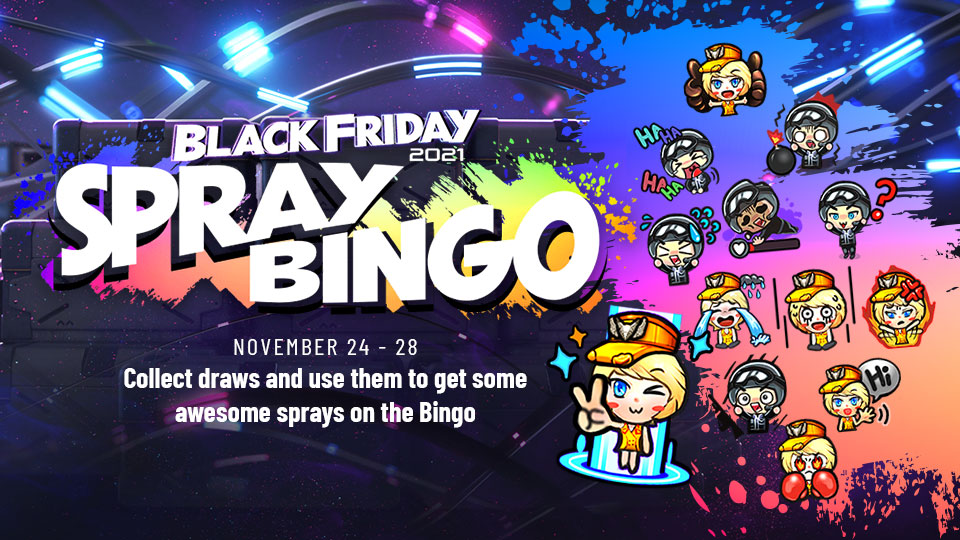 Attention Mercenaries,
Not everything in life has to be winning or being N1 in Ranked,
There are many other pleasures like music, chocolate or pizza...
Or even getting some cool collectibles like these awesome sprays,
Relax and enjoy the cute Bingo we have for you during Black Friday!
*Moony sweats as he notices the lady besides him was N1 in last season Bingo Ranked*
From November 24th to 28th, all the ZP you spend in our Black Friday Event will be worth a lot more than just for VIPs and crates... This year you will also get one random draw for every 1,000 ZP you spend on Black Friday checkout!
Draw the correct numbers and complete each line (vertical, horizontal and diagonal) on the Bingo sheet to win permanent Black Friday sprays. Complete the whole Bingo card and you will receive the exclusive 'Peace' Spray!
Play this colorful Bingo HERE.
Go to the main Black Friday page to get incredible discounts and draws with your purchases!
When they told me "Spray and pray" they should have specified it didn't mean these sprays *Moony looks worried at the colorful sprays he brought instead of weapons while gets surrounded by the enemy*
See you at the battlefield,
-CrossFire Team