Paranormal Play: October 29th - November 1

[GM]Kanadian
Administrator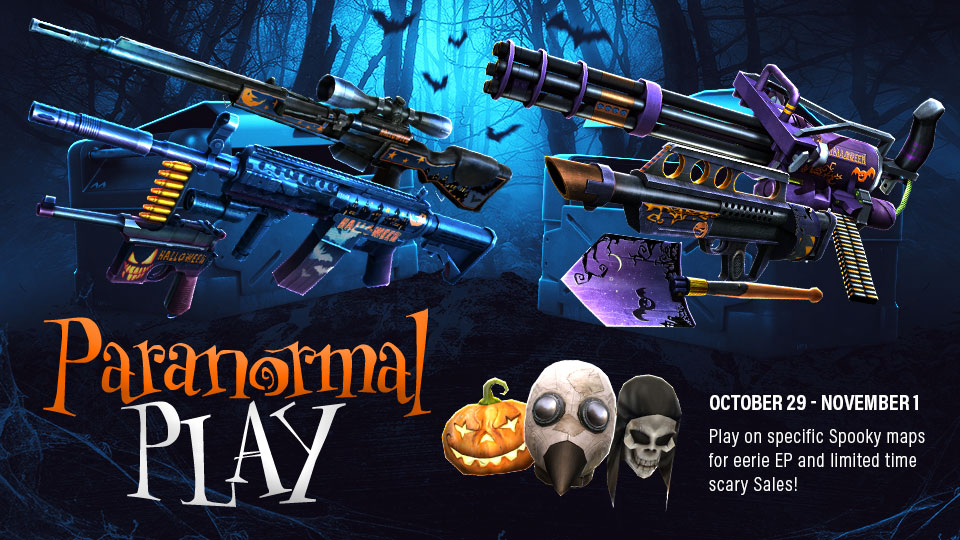 Attention Ghouls and Ghosts!
All Hallows Eve is upon us, and that means its time for the monsters to come out to play! We hope you're ready to play with them, because we've got some supernatural rewards for you if you dare...
From October 29th to November 1st, play on Halloween TDM, Halloween EM, or Horror Hide & Seek to win 20 EP for EVERY MINUTE of playtime! Every horror fan has their limits though... And yours is 15,000 EP per day! Keep track of your progress HERE!
Not quite spooky enough for you yet? We've CHOPPED the prices for limited time Halloween Mega Crate and 2012 Halloween Event ZP Crate. Each of them will be available for 10,000 EP per 10 crate package. Limit 3 of each package per user!
Last minute shopping to get your costume in place is the most terrifying of all! Grab the Pumpkin Mask, Skeleton Mask, or Plague Doctor Mask for 7 days at 1500 EP each! The chilling part about these masks? They are unstoppable, because there is NO LIMIT on how many you can buy! Grab these mentioned items and more in the CrossFire Shop!
Happy Spooking, Mercenaries!
-CrossFire Team