Halloween Creative Contest 2021

[GM]Kanadian
Administrator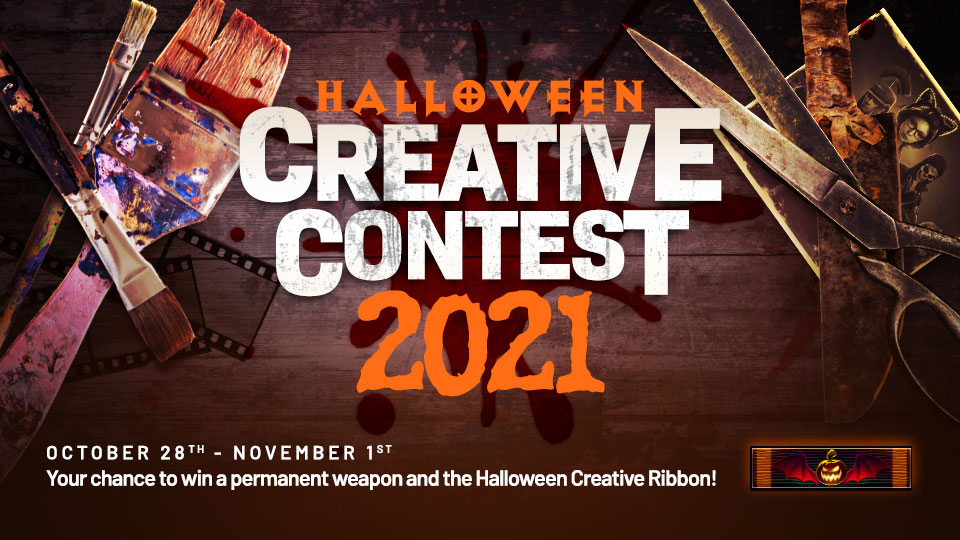 Attention Mercen-scarys!
There is a figure in the doorway! A shadow on the wall! Spine chilling screeches sound in the night; Ghosts and ghouls looking for a new victim to haunt! Something wicked this way comes - and it may be you!
The Halloween Creative contest is back this year, and we're looking for the spookiest schemes you can think up. From October 28th to November 1st, you can submit YOUR creepy creations to our support center via the "Halloween Creative 2021" section. Are you alone in the dark about the details? Take a look, if you dare:
Prizes:
1st Place: Permanent Halloween weapon of choice excluding 2021 Halloween and Day of the Dead weapons and collection reward weapons
2nd Place: 20 Halloween crates of choice, can only choose one type
3rd Place: 10,000 ZP
Submission Rules:
- You may compete in each category, but you may only win once.
- Your last entry will overwrite the previous entries.
- Players must submit their entries using an active account that is not currently suspended or banned. In the event that an account becomes banned or suspended during the event time, your entry will be revoked.
- Plagiarism and content that is not your own will not be accepted.
- Any entries with discriminating, obscene, illegal, or copyright-protected content from other companies or persons will be disqualified.
- Images and videos must be clear
- Prizes are non-refundable and cannot be transferred to other accounts. If for any reason, the winner's account is banned prior to the prizes being awarded, the winner will forfeit their right to the prizes.
- All entries submitted for contests become the property of Smilegate West and may be used for additional promotional periods.
- Z8Games and Smilegate West reserve the right of final judgment on any issues relating to this event and to change the submission time, voting period and announcement times.
Categories
Best Costume:
A photo of the player in a CrossFire related Halloween real-life costume
Players have to hold a sign with #CFHalloween2021 + their IGN
The picture of the costume and the player must be clear and unaltered. Photo manipulation of the player/costume will not be allowed
write in the description what your costume is! For example, if you're wearing the freakish mask, or you're a zombie, let us know!
The image has to be uploaded via ticket
Best Video:
A video that uses CrossFire to tell either a scary story or a Halloween related story
The video can be uploaded to the following platforms: YouTube/Instagram/Tiktok
You are allowed to enter an unlisted YouTube video but be aware it may be shared on our public channels
You MUST send a link to your video via the ticket submission
Please note that in cases of copyrighted/non-original audio, Z8Games reserves the right to make a judgement call in regards to validity of the submission. We will not accept any inappropriate content.
Best Art:
A comic strip or an image telling a scary story taking place in CrossFire
The art can be digital or hand-drawn
The art needs to have #CFHalloween2021 and the IGN clearly visible
The image has to be uploaded via ticket
Best Vegetable/Fruit Carving:
The carving has to be CrossFire related
You can carve/decorate a fruit or vegetable
Your IGN and #CFHalloween2021 must be on a paper in the photo
The image has to be uploaded via ticket
Please ask an adult to help you if needed!
Additionally, depending on how many submissions we receive in each category, there may be additional prizes!
An example would be if there were 10 submissions for the Costume Contest, we will add one runner up who will receive the Freakish Halloween mask. There will be up to 3 runner ups for each category. These runner ups will NOT Receive the Halloween Contest Ribbon.
Costume Contest Runner Up – Freakish Halloween Mask
Video Contest Runner Up – 5,000 ZP
Art Runner Up – 5 Resurrected Rifle Crates
Vegetable / Fruit Carving – 5 Resurrected Rifle Crates
UPDATE:
We have our were-winners and I'm here to announce them!
COSTUMES:
1st Place - [T]oy
2nd Place - Bismarck.
VIDEOS:
1st Place: NRG_YT
2nd Place: i[S]KillzZ-
3rd Place: [CK]DiabloX?
CARVINGS:
1st Place: Kinderina.
2nd Place: BadCandy
3rd Place: mambo150
ART:
1st Place: Odin*
2nd Place: St1ch
3rd Place: AlphaKenny1
Thank you to all who participated, and we hope you have had a spooky Halloween season!
-The Crossfire Scream