Grave Games 2021 - October 22 to 31

[GM]Moony
The Book Eater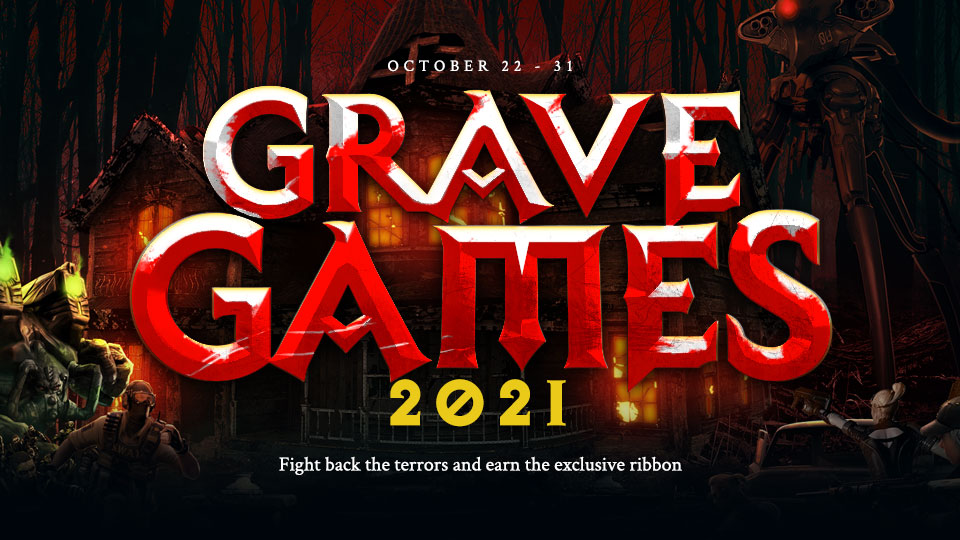 Attention Mercenaries,
Halloween is just around the corner, and do you know what's the best way to celebrate it?
*Moony prepares his bag for candy and his zombie werewolf costume looking excited*
Killing all kind of monsters, zombies, seekers, mutants, and supernatural fiends!
*Moony hides his bag for candy and starts cleaning the zombie make up he was wearing*
From October 22nd until 31st, Halloween celebrations are going to take over CrossFire with the kind of scary games you love to play! Ready for this year's Grave Games? Then check the missions:
Seek the Horror: Complete 33 games in Hide & Seek mode to get 10 Fantastic Creatures 1 Crates. Minimum 4 Players in the room.
Witching Hour: Play at least 1 hour each day during the event and you will receive 10 Red Dragon Rifle Crates.
Rise of the Dead: Complete 33 Zombie Mode Games, in either ZM1, ZM2, ZM3 or ZMX (Death Rally will not count) and obtain 10 Dragon Buster Crates. Minimum 4 Players in the room.
Ghost Town: Win 33 games in Ghost Mode, Ghost S&D or Shadow Elimination Mode for 10 Fantastic Creatures 2 Crates. Minimum of 6 Players in room.
Monster Mash: Complete 33 games of any Mutation Modes to get 10 Legendary Dragon Crates. Minimum of 6 Players in room.
Exorcise the Horde: Contribute with the community goal by getting at least 66 Zombie kills and clearing at least 6 games in order to receive the 10 New Gold Black Dragon Crates. The mission will only be accomplished for everyone if the community reach at least 9 million Zombie kills and 9,999 games are completed.
If you finish all 6 objectives, including the Community Goal, you will receive the Grave Games Ribbon besides all 60 mentioned crates! This does not look like a horror movie now, does it?
Remember that games must be completed and Password Protected Rooms will not count. For this event in particular, each objective has a minimum amount of players required per room, please keep it in mind as a bigger team is better to fight scary monsters.
Check your progress in the Event Page HERE.
NOTE: The Ribbon and the earned crates will be delivered during the following 48 hours after the Event finishes.
Keep your flashlight loaded and your weapon on, you never know what lies behind those bushes *Moony breathes deeply expecting it to be just a normal-sized spider*
See you at the horror field,
-CrossFire Team