Fright Night: Every Friday, Saturday & Sunday in October

[GM]Sharingn
**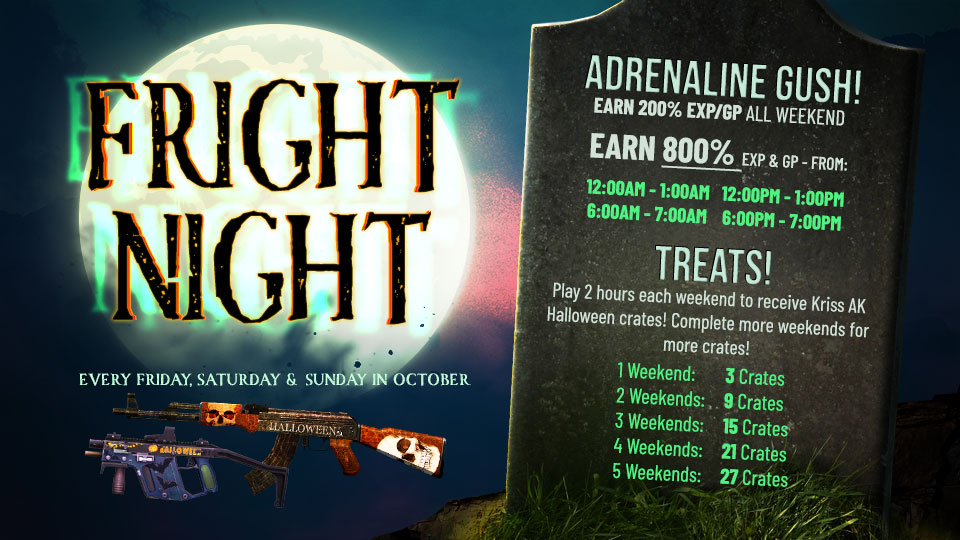 Attention Mercenaries,
When the sun goes down and darkness falls, you fall asleep but with eyes wide open. Strange voices start to take over your mind and the fear of the unknown becomes real. It's either you are living a nightmare, or you are in fright night!
Every Friday, Saturday and Sunday in October, you can earn extra EXP, extra GP, and crates! Just for playing!
Adrenaline Gush!
Earn 200% EXP and GP all weekend! Want a bit extra? Earn 800% EXP and GP between these times (all in server time, local to EDT):
12AM - 1AM
6AM - 7AM
12PM - 1PM
6PM - 7PM
Treats!
Play for 2 hours each weekend and you'll receive crates full of tools you can use against your enemies! The more weekends you play in a row, the more crates you can earn:
1st Weekend = 3 Kriss AK Halloween crates
2nd Weekend = 9 Kriss AK Halloween crates
3rd Weekend = 15 Kriss AK Halloween crates
4th Weekend = 21 Kriss AK Halloween crates
5th Weekend = 27 Kriss AK Halloween crates
Make sure to also check out the limited time contracts on the Mercenary Pass HERE, because you could earn extra rewards at the exact same time as completing your 2 hours each weekend!
Keep track of your weekend progress HERE.
Rules:
Games must be completed
Password Protected rooms do not count
Stay under your blanket!
-CrossFire Team