In the Eyes of the Ghost - Sep 10 to 15

[GM]Moony
The Book Eater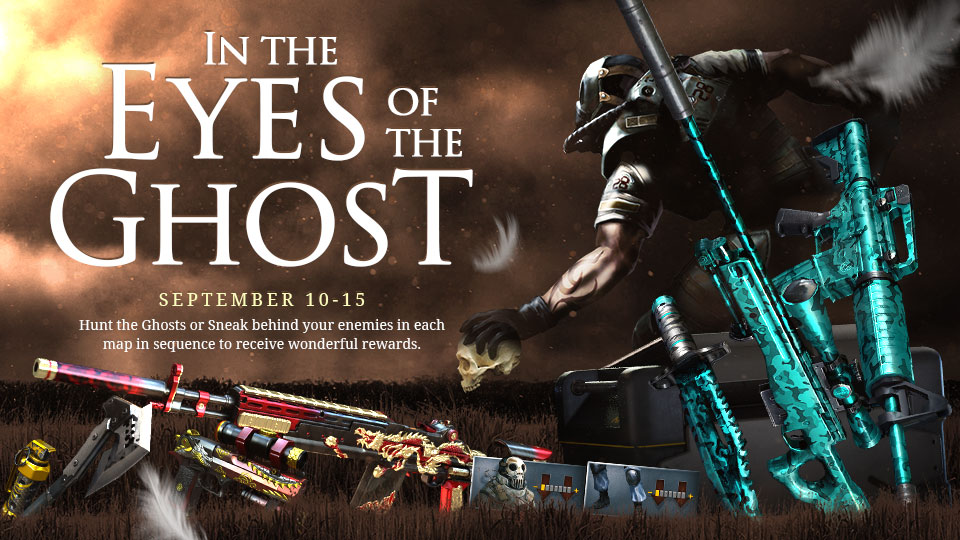 Attention Mercenaries,
We, as soldiers, are constantly relying in our senses when facing the enemy in the battlefield,
Some say a good vision is the most important in battle, so we constantly train our aim when shooting,
However, sometimes you have to believe in your ears to "see" the enemy... quoting the famous poet:
To see or not to see... there's the kill *says Moony while looking at the horizon and holding a skull*
From September 10th to 15th, we have set a few special missions to complete in Ghost Mode... It doesn't matter if you prefer hunting ghosts or being the ghost itself, what matters is how deadly you are, one mistake can be the difference between winning and losing!
The objectives are simple, but keep in mind they must be completed in order! The next mission will only be tracked after you finish the previous one:
Play 30 minutes on Metro: Ghost Mode Booster Pack (30 days)
Obtain 100 kills on Complex: M14EBR-S-Divine Dragon (7 days)
Complete 5 matches on Bio Facility: D.E.-S-Imperial Dragon (7 days)
Obtain 100 kills on Laboratory: W.Grenade-G.Phoenix (30 days)
Complete 5 matches on Tower: 5 Turquoise Camo Crate
Win 2 matches on Ghost Prison: 5 Turquoise Camo Crate
Besides the 6 missions of this event, there will also be 2 extra Limited Contracts worth to 4 Levels in your Mercenary Pass, don't miss the chance of getting 2 ghosts with the same alarm!
Play 60 minutes on Ghost Mode
Obtain 25 kills on Ghost Mode
Remember that games must be completed and Password Protected rooms will not count for this Event!
Track your progress and check the new missions as they unveil HERE.
Ready to start? Time to go radio silent! *Moony turns off his radio while sweating nervously*
Hear you at the battlefield,
-CrossFire Team