Spin the VIP Wheel: M4A1-S Angel - September 8 to 21

[GM]Moony
The Book Eater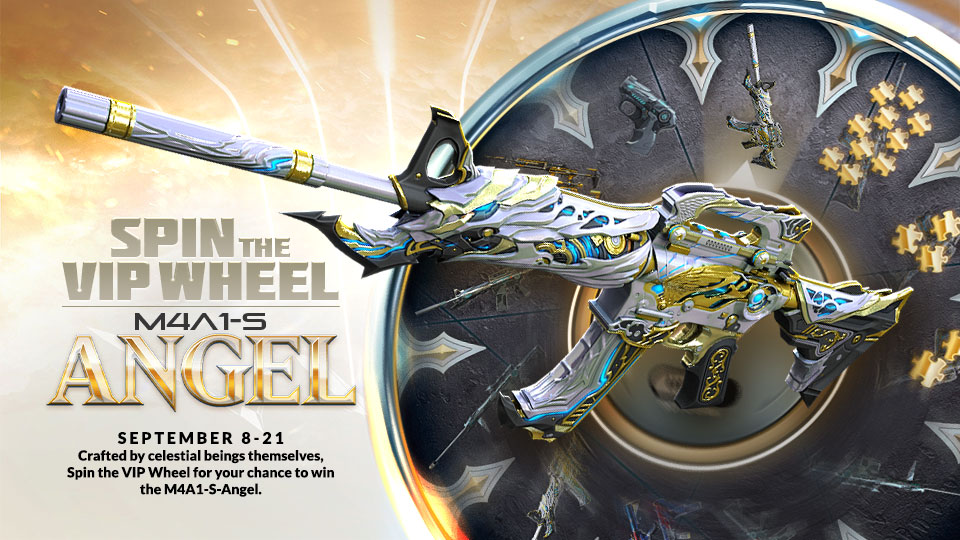 Attention Mercenaries,
*Epiphany!*
I just have had the sudden divine realization that the word I was looking at a moment ago was Epiphany
Do you know why? Because we have made a deal out of this world *Moony smiles with the pun*
Some agents have seen in a dream that the next VIP was going to be blessed by celestial beings,
And after a couple of days of heavenly negotiations, we can proudly present you the new: M4A1-S Angel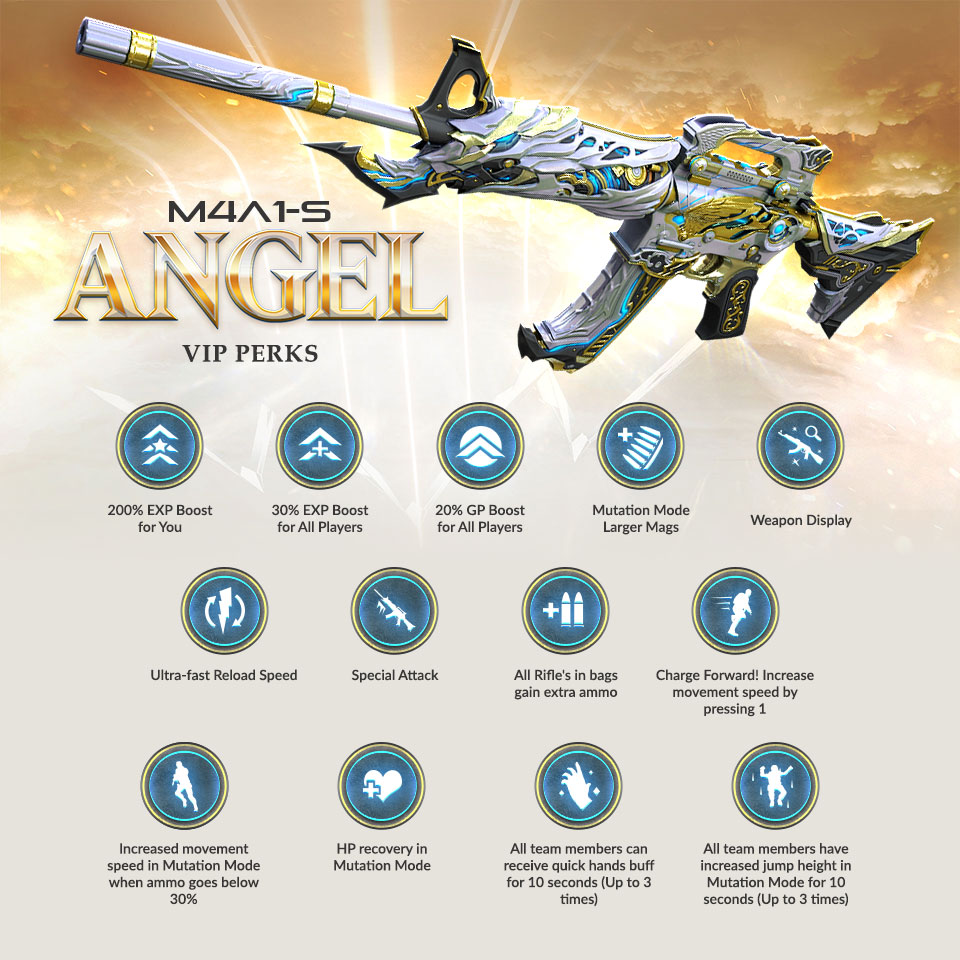 From September 8th until 21st, this new VIP Wheel is gonna get your head spinning with all these heavenly rewards!
For this occasion, we have included the new Guardian Angel Gauge so you don't miss the new VIP, this is how your Guardian Angel works:
Each time you spin the wheel and you do NOT win the M4A1-S Angel, the Guardian Angel gets +1 to its counter.
If you win the M4A1-S Angel weapon by spinning, the Guardian Angel Gauge resets back to 0.
If you fill the Gauge without winning the M4A1-S Angel, your Guardian Angel will activate its powers and grant you the VIP automatically, resetting the Gauge to 0 as well.
During this Spin the VIP Wheel you can also get Weapon Pieces as rewards! These pieces can be redeemed for many options shown on the Event Website, including VIP packages... don't forget to exchange all your pieces before the event finishes on September 21st, because they won't be usable after.
In this section, you can redeem items as many times as you want, provided you have enough Weapon Pieces. Keep in mind that VIPs can only be owned up to 14 times.
Only one item can be redeemed once: the October Premium Mercenary Pass, if you decide to get this one, you will instantly start with a Premium Pass for a month after the October patch.
Last but not least, if you redeem the M4A1-S Angel from the Weapon Pieces Redemption Page, it will not affect the Guardian Angel Gauge and you could still receive this weapon by the powers of your Guardian Angel!
Here is the list of prices for spins, plan ahead and save purchasing more spins together:
1 Spin: 2,000 ZP
5 Spins: 9,000 ZP
10 Spins: 16,000 ZP
30 Spins: 45,000 ZP
50 Spins: 70,000 ZP
100 Spins: 130,000 ZP
Wanna know more about this Event? Check this Promo Video.
What are you waiting for? This weapon is not gonna drop from heaven on its own (or maybe it can, part of the deal included deliveries by Angels)... Go and get the new VIP HERE!
See you at the battlefield,
-CrossFire Team