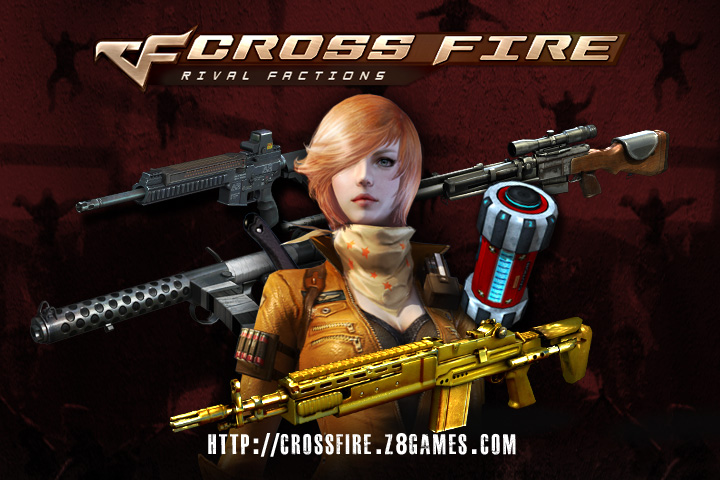 Attention Zombie Hunters!
The March update is here! The game is up! You will be able to automatically download the patch from the game launcher. For technical difficulties please check our
common solutions
in our technical support forum.
Please note that some items have changed in Zombie Mode Reward boxes.
Click here for the visual spoiler.
Welcome to the Dinner Theater from hell!
A distress call has come from a blown out dinner theater inside the zombie safe zone. You must go in and look for survivors, but beware each course brings a new danger until the final act is revealed!
Play the new Dinner Theater Zombie Mode map today and defeat the Destroyer for new items!
The Slaughterhouse is here!
Get Tickets. Kill Zombies. Win Items.
Purchase the new Slaughter Tickets from the in game mall and get a chance to win some awesome new prizes. Get a chance to win one of 2 new permanent items, the JTF Character or the M14 EBR!
Slaughter tickets can be turned on and off from your inventory. When active, any zombie kill will result in you collecting random items from the slaughter ticket list. When you leave the game you can see the items you've won.
Get Bonus EXP/GP and ZM Points!
Equip zombie mode exclusive items and receive a bonus for the number of players in a game. Get up to 5% more EXP and GP from ZM games by equipping these items. PLUS additional players increases these bonuses!
ZM Specific items ranger from items like the ZM Grenade, ZM Backpack, Destroyer Mask, Warmonger Fists etc.
Collectors Rejoice!
Temporary Storage has been implemented. Max out your storage of weapons and additional items won from Crates or elsewhere can be placed in the Temporary Storage for use later. Max Storage contains approximately 650 items so get collecting today!
March Update Content
New Map Dinner Theater Added

Slaughter Tickets
New Permanent JTF Character Added
New Permanent M14 EBR Gold Added
New AR 57 Added
New Zombie Mode grenade (explodes on impact) Added
New Zombie Mode backpack (allows weapon change mid match) Added

New Zombie Rewards (Crystal crate, Destroyer crate)
New Dual DE Red Vein Added
New FN F2000 Red Skull Added
New G11 Added
New Destroyer Mask Added
New Destroyer Bomb Added

System Improvements and Anti Hack Measures
We have implemented some new code with X-Trap and HGWC to stop some specific hacks from entering the game. We do not want to reveal these new details, but we hope that they will help improve the situation.
Note that it is very difficult to stop 100% of the hacks, but we are working with X-Trap and Smilegate on a daily basis to eliminate as many hacks and hackers as possible!
New Account Creation restrictions
Very soon we will be adding some new anti fraud measures with account creation. This will give us more ability to control how many accounts players make per day which should help reduce some of the abuse. We will have more details about this soon.
Addressing Server Instabilities
We are making back end improvements to our servers in conjunction with the developers. This process will take some time, but we hope that with each new iteration our servers get more stable and more functional. Most of these upgrades should not affect the live service, but as we make them we will make additional announcements to keep everyone informed. Our goal to get back to a stable service and make sure everyone is enjoying Cross Fire!!
Slaughter Theater
From March 22 - 24 EST
For every 1,000 Zombie Kills you collect, you will win 1 Free Gatling Gun crate! (max 5 per event period)
For every 3 Boss kills on normal mode or higher will win 1 Free Revive Token (max 5 per event period)
Plus be the player with the MOST ZOMBIE KILLS and win Free Bonus ZP!
First Place - 50,000 ZP
Second Place - 20,000 ZP
Third Place - 5,000 ZP
Plus 4 Random winners who play more than 3 Zombie Mode games during the event period will receive 4,000 ZP

Note that players who have been previously banned for hacking are not eligible to win the Bonus ZP.

Extended details of this event will be posted in a separate news announcement.

If you experience troubles with the patch including errors involving; version.ini, file changed errors or connection errors we recommend reading through the following thread for solutions:
http://forum.z8games.com/showthread.php?t=52579
And please keep your account secure! Do not give away any account information on your account, and do not fall for scam sites which offer free items and ZP!