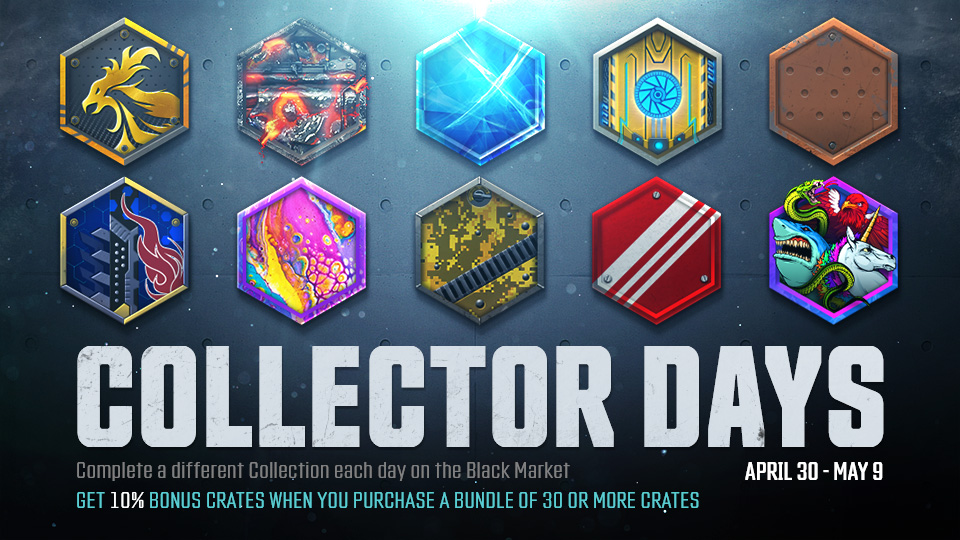 Attention Mercenaries,
It is known that people like to collect things, and we can be very proud of our collections when we complete them!
I know that a lot of people go nuts for Action Figures, Magazines, Guitars or even Baseball Cards,
For instance, the 1909 "T206 Honus Wagner" Card is priced between 3 and 4 million US Dollars!

Crazy, innit? Well... Since we know you love to have different styles of weapons, we have prepared an event with bonus crates so you can complete your collections in no time:
From April 30 to May 9, things are going to be very active on the Black Market, because we will feature the crates of one different Collection each day for 24 hours only!

With feature we mean that if you get any Bundle with 30 crates or more, you will get 10% more crates as bonus, in other words:
30EA adds +3 bonus crates
50EA adds +5 bonus crates
100EA adds +10 bonus crates
Do you want to have more information about the Collections you can complete on these days? Check the following and don't lose time, any minute makes the difference!
Splash Attack 1 Crate
Splash Attack 2 Crate
MechaBee Crate
Cardinal Crate
Volcano Crate I
Volcano Crate II
Volcano Crate III
Bronze Crate
Blue Aura 1 Crate
Blue Aura 2 Crate
*** The bonus crates on this day are different so you can also get the Grenades! ***

Glorious Phoenix Crate *bonus: Glorious Phoenix Mega Crate B (includes Smoke-G.Phoenix)
New Glorious Phoenix Crate *bonus: Glorious Phoenix Mega Crate A (includes W.Grenade-G.Phoenix)
Glorious Phoenix Conclusion Crate *bonus: Glorious Phoenix Mega Crate C (includes Flash-G Phoenix)
07-May: Fantastic Creatures
Fantastic Creatures 1 Crate
Fantastic Creatures 2 Crate
Ultra Crate
Golden Camo Crate I
Golden Camo Crate II
Golden Camo Crate III

Remember that any Collection you complete will also get you a special reward: the Collection Namecard, and one extra Weapon!

Don't worry about breaking the collector's packing of those weapons, they won't lose their value for using them against your enemies.

See you at the collector store,
-CrossFire Team
Time converter at worldtimebuddy.com