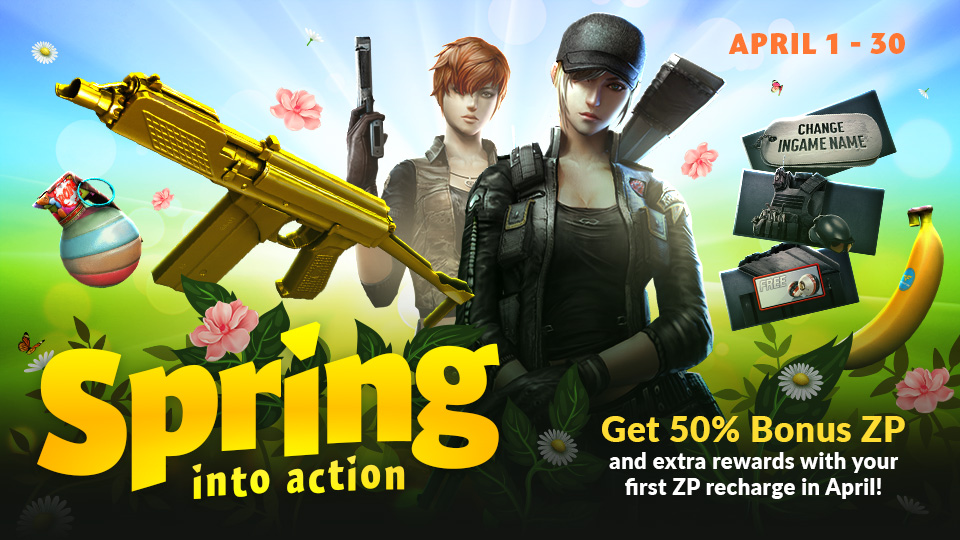 Attention Mercenaries,
With the warm weather upon us and flowers starting to blossom. I thought to myself let's do some spring cleaning and freshen up some sweet deals for you.
It's time to

SPRING Into Action
From April 1st to the 30th you will be able to take advantage of the
50% bonus ZP and some sweet rewards with you're first ZP recharge
.
Offer valid for 1st recharge of the month only
For all paying users, receive:
5,000 ZP <= Recharge Amount < 20,000 ZP
9A91-Gold 7days
Grenade-Sweet 7days
Bulletproof Helmet 7 Days
Bulletproof Vest 7 Days
Free Crate Ticket
5EA
50% Bonus ZP
20,000 ZP <= Recharge Amount < 100,000 ZP
9A91 - Gold 30days
Grenade-Sweet 30days
Bulletproof Helmet 30 Days
Bulletproof Vest 30 Days
Free Crate Ticket
5EA (x2)
50% Bonus ZP
Recharge Amount >= 100,000 ZP
9A91 - Gold 30days (x2)
Grenade-Sweet 30days (x2)
Bulletproof Helmet 30 Days
Bulletproof Vest 30 Days
Free Crate Ticket
5EA (x4)
50% Bonus ZP
For first time paying users only 5.000 ZP or more, also receive:
Change in game name 1EA
Free Crate Ticket 5EA
SPOP-ELITE
30 Days
Banana Grenade 30 Days
For fast travel to the ZP deposit
CLICK HERE
Before you jump at the occasion (Spring pun) ill leave you with a joke. What's the freshest herb you can find in April?
.
.
.
.
.
.
Spring-thyme!. . . . . . . . . . . . . . . . . . .I'll see myself out now.

See you at the battlefield,
-CrossFire Team
Time converter at worldtimebuddy.com