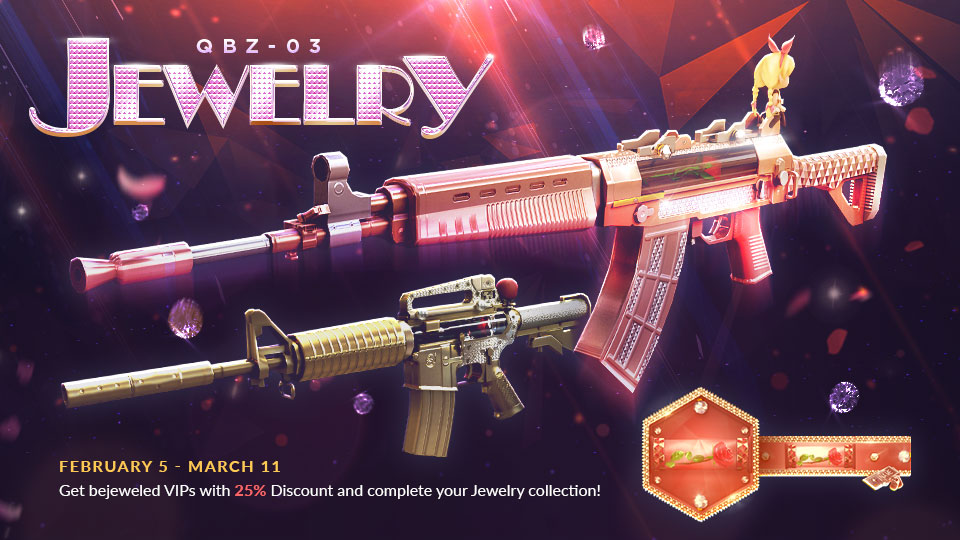 Attention Mercenaries,
We hope you're ready to add a little bling to your inventory because the
QBZ-03-Jewelry VIP
is finally here! And for a limited time, it will be discounted, along with its brother the
M4A1-S-Jewelry
.
From
February 5th to March 3rd
, enjoy these VIP at
25% off
the price.
That means both the
QBZ-03 Jewelry
and
M4A1-S Jewelry
will be available for only
60,000 ZP
in the in-game shop!
Complete your Jewelry collection today! Collection? Oh, that's right!
Available now is the Jewelry collection, so if you've got all 3 Jewelry weapons, you'll be able to add that to your profile as well! But act soon, because the
QBZ-03-Jewelry
will be
removed from the shop after this event ends on March 11th!
Put a little shine in your life, Mercenaries!
-CrossFire Team
Time converter at worldtimebuddy.com