Mission Possible: September 28 to October 3

[GM]Sharingn
**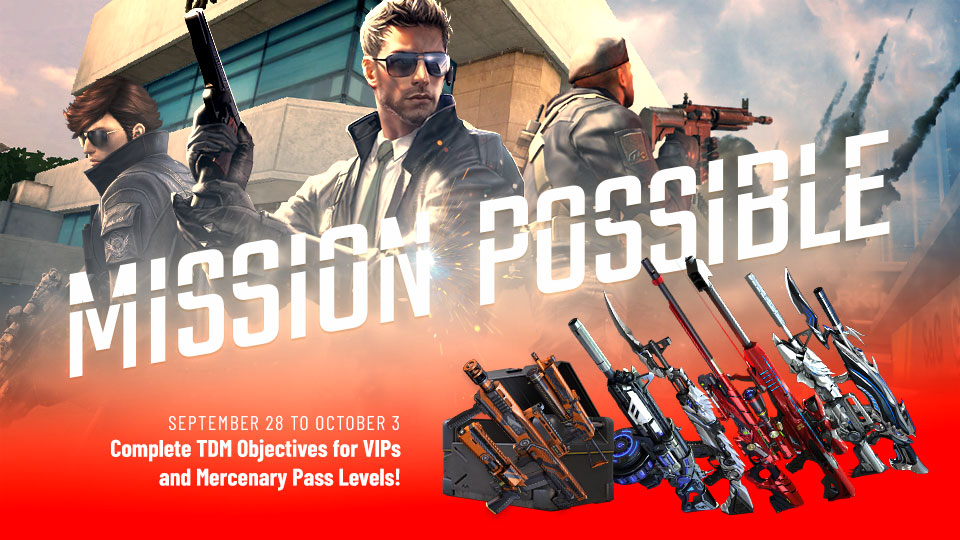 Attention Mercenaries,
Time has come to jump into a new mission, so gear up and get ready to take what is ours!
From September 28th to October 3rd, you will need to play at least 30 minutes of TDM on the map of the day and you will receive the VIP of the day as following:
28-Sep: City - M4A1-S-Iron Beast 1day
29-Sep: Mine Valley - AWM-Ironhawk 1day
30-Sep: Train - AA-12-Iron Beast 1day
01-Oct: Power Plant - AK-47 Iron Beast 1day
02-Oct: Factory - Barrett-Iron Shark 1day
03-Oct: Snow Valley - AK12-Iron Beast 1day
Complete all 6 daily missions and you will get 10 Excavator Crates!
Make sure to also check out Mercenary Pass additional limited missions on each map.
Track your progress HERE!
Remember:
Only completed games counts and cannot be on password-protected rooms.
Good Luck!
-CrossFire Team