Noble's Gathering - September 17 to 26

[GM]Moony
The Book Eater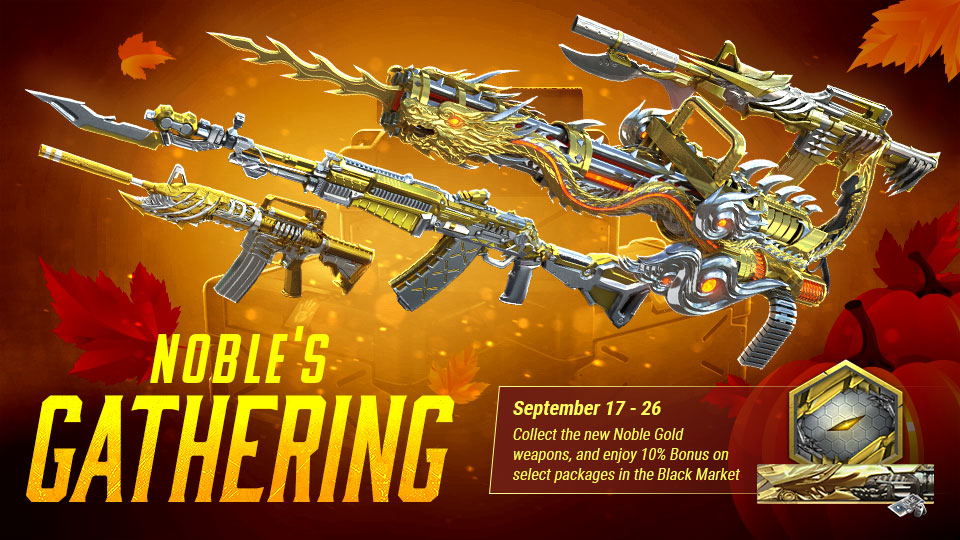 Attention Mercenaries,
Our R&D Department was implemented to look for new trends in weapons and supplies,
(Note: this is Ruckus & Destruction, not to be confused with Research & Development)
In their free time, however, they like to plan parties with no intention of creating chaos.
It's a shame that they always add surprises... Like using flashbangs instead of candles for the cake...
*Moony walks away to get the mop for cleaning the disaster made with the cake*
From September 17th to 26th, be ready for this crazy welcoming party for the new members of the Noble Gold's Family! The great news is that all the Collection Crates have confirmed their presence in the Black Market during these dates.
You will be able to get any of the following crates for a limited time:
Noble Gold Beast Crate
Spring Noble Gold Crate
Luxury Noble Crate
Autumn Noble Crate
Late Summer Noble Crate
Noble Gold Crate
And obviously, the New Member: Harvest Noble Crate, featuring these 4 weapons:
Gatling Gun-Noble Beast
M4A1-S-Noble Demon
M4A1-S-Radiant Noble Beast
AN94-Transformer-Noble Beast
Now, now, a feast of such proportions cannot be a real party without a special gift for you, *Moony makes a drumroll* this is why we are giving 10% bonus crates when you purchase a bundle of 30 or more! In other words:
Get the 30EA bundle -> Receive 33 crates
Get the 50EA bundle -> Receive 55 crates
Get the 100EA bundle -> Receive 110 crates
Completing the Collection, including all the 4 new members, will grant you the Noble Beast Collection Namecard!
Remember to arrive on time so you won't miss the best places on the table!
See you at the battlefield,
-CrossFire Team