July Jousting - Every Weekend in July

[GM]Moony
The Book Eater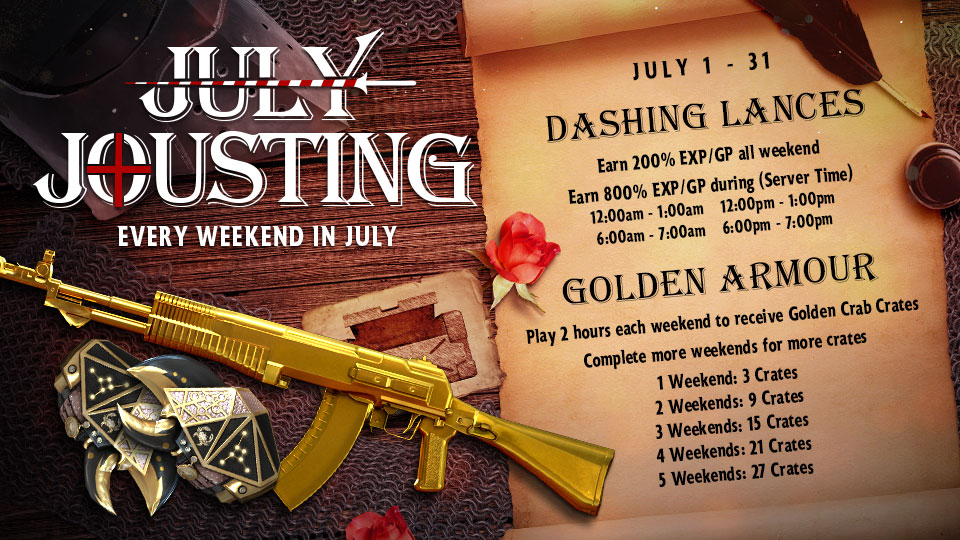 Attention Mercenaries,
*Moony appears wearing old-fashioned chain armour and helmet*
July has been named the Month of Jousting by Her Royal Majesty:
This means that we will be holding tournaments every weekend
To decide who is the worthiest to be crowned as King of England!
*Another agent interrupts and hands a piece of paper to Moony*
... of CrossFire! Apparently, England is not participating this year.
During every weekend in July, it is time to don your best knight armor and summon your most reliable horse, because the jousts are about to begin and we have a good stash of Golden Crab Crates to deliver among the winners!
Dashing Lances

Earn 200% EXP and GP all weekend! And if you decide to compete against the best knights in the peak hour, earn 800% EXP and GP instead! (hours expressed in EDT server time):
12AM - 1AM
6AM - 7AM
12PM - 1PM
6PM - 7PM
Golden Armour
Play for at least 2 hours each weekend to receive Golden Crab Crates. The more weekends you play, the more prizes you can collect:
1 Weekend: 3 Golden Crab Crates
2 Weekends: 9 Golden Crab Crates
3 Weekends: 15 Golden Crab Crates
4 Weekends: 21 Golden Crab  Crates
5 Weekends: 27 Golden Crab Crates
For a total of 75 Golden Crab Crates if you complete all 5 weekends of July!

Remember that Games must be completed and Password Protected rooms do not count.

Check your progress of each weekend 
HERE
. and don't forget that you can get 3 levels each weekend with the 
Limited Contracts
 of your Pass. 
Knights! Ready? On your marks... GO!
*Moony blows a totally anachronistic whistle instead of firing a blank in a proper pistol*
See you at the battlefield,
-CrossFire Team