Noble Titanium - May 10 to June 7

[GM]Moony
The Book Eater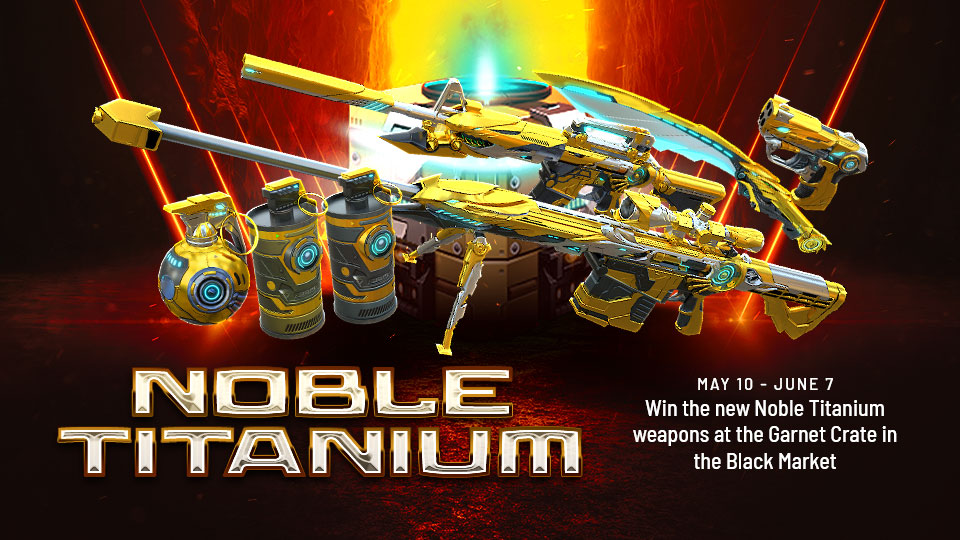 Attention Mercenaries,
In our constant desire for improving our armament,
We have come up with an idea to release max power:
What if we make a gun that shots loaded guns?
This way we have bullets growing exponentially!
*While Moony tries to convince the bosses about this new idea with a lot of complicated calculations, you better check the new season of the Garnet System*
From
May 10th until June 7th
, you will have the chance to add a new Collection to your equipment with this new 
Garnet Crate
, and these are the permanent weapons you can get:
M4A1-S-Noble Titanium Beast
Barrett-Noble Titanium Beast
Cop.357-Noble Titanium
Kukri-Noble Titanium
G-Noble Titanium
Smoke-Noble Titanium
FB-Noble Titanium
Each time you use one garnet, you get one reward. If you do not win a permanent weapon, you will receive one of the following items to buff your account. Keep in mind that you can purchase
1 Garnet for 500 ZP
or
10 Garnets for 4,750 ZP
:
Ring Enchant (30EA)
Powered Bulletproof Backpack (30days)
Awaken Water (10EA)
New Mutation Spike (30days)
Mutation jacket (30day)
C4-Enhanced (30days)
Invisible Smoke Helmet (7days)
You can dismantle any item that you don't want and collect a number of Dismantle Points that could be exchanged later for any of the Permanent Weapons, please note that you can only redeem each weapon once this way.
If you are still new to the Garnet System, you can check
THIS
Forum Post for more information.
Ready to feel the power of this new Noble set? Good luck!
See you at the battlefield,
-CrossFire Team