VIP Area: New Year's Special - December 27 to January 2

[GM]Moony
The Book Eater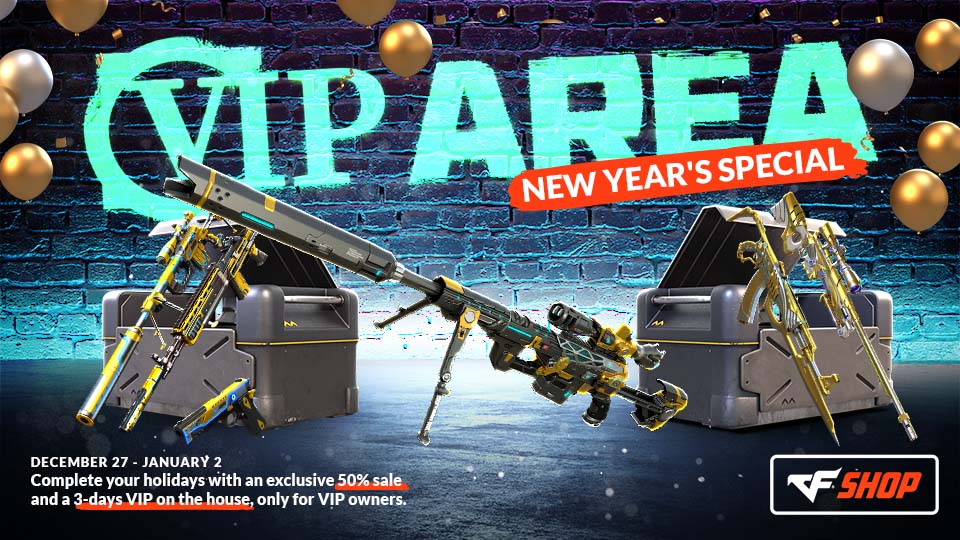 Attention Mercenaries,
As we finish 2021, we usually take some time to clean our base,
Sometimes we even find things that we thought we lost for good,
Like that old pin over there that I got after my first grenade headshot.
This time in particular, however, as we clean our weapon warehouse,
We have decided to make a sale as token of appreciation to our VIP agents.
Go and grab it fast, because we will clear the warehouse for what 2022 brings!
From December 27th to January 2nd, all VIP Owners will have the chance to enjoy a special offer in our Webshop.
You will be able to redeem a 3 days version of the M200 CheyTac-Dominator, totally on the house, and you will also have the following crate bundles available at 50% discount (you can only redeem the weapon or purchase the crates once per account).
Noble Gold Beast Crate (50EA) - 30,000 ZP
Noble Gold Beast Crate (100EA) - 55,000 ZP
MechaBee Crate (50EA) - 22,500 ZP
MechaBee Crate (100EA) - 42,500 ZP
Ready for some extra savings? Check this Special Sale HERE.
*Moony waves as he finishes a couple New Year postcards to send to the other CF bases*
See you at the battlefield,
-CrossFire Team