Attention Mercenaries,
Many of you reported that you receive an error during playing CrossFire or when logging in similar to this: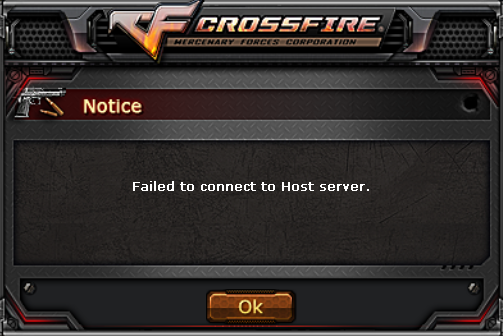 Please be aware that does not effect all of the players of a specific region or Internet Service Provider.
It is not an issue we can solve from our end, but we monitor the situation closely.
Most of the time the issue gets solved by itself but you can try a few steps of troubleshooting that might solve the issue for you.
Even if the issue returns after it was solved, you can try again to solve it.
1. Check the Firmware of your Router/Modem.
If the last update was a very long time ago, please check if you can get an update.
If you Firmware was updated very recently, you might have received a faulty update, and want to try to roll back the Firmware to a previous update.
For instruction to find this, please check the manual of your Router/Modem or check for a manual online.
2. Opening ports: In order to allow information from the internet or an online game to reach your computer, you might need to open a port through your Windows Firewall.
To open a specific port, use the following steps:
Click on the Windows Key + R on your keyboard
In the Run window that will appear, type firewall.cpl and hit Enter
Click on Advanced Settings on the left menu (You might need Administrative permission)
You can either follow the instructions on the screen, or use the following guide: http://www.mytecbits.com/microsoft/w...ows-8-firewall
You will need to open 6 different ports for CrossFire. The details for these ports are listed below:
- Name: Crossfire1 – Port: 13008 – Protocol: TCP
- Name: Crossfire2 – Port: 13008 – Protocol: UDP
- Name: Xtrap1 – Port: 10009 – Protocol: TCP
- Name: Xtrap2 – Port: 16666 – Protocol: TCP
- Name: Xtrap3 – Port: 10009 – Protocol: UDP
- Name: Xtrap4 – Port: 16666 – Protocol: UDP
If you are using an internet router, most likely it will have a separate Firewall. Since there are many different manufacturers, we are unable to provide a one guide for all of them. Please consult with your router manufacturer's guide, or visit http://portforward.com to find instructions of how to forward the above mentioned ports.
3. Flush and register DNS. Please try following instructions:
For Windows 7 or 8:
Hold down the Windows key and press R. (This will open the Run dialogue.)
Type cmd and press Enter. (This will open a command prompt.)
Type ipconfig /flushdns and press Enter.
Type ipconfig /registerdns and press Enter.
Type ipconfig /release and press Enter.
Turn off your Modem/Router and wait 5 minutes
Turn your Modem/Router back on, wait until it booted completely
Back on your PC, type ipconfig /renew and press Enter.
Type netsh winsock reset and press Enter.
Reboot your computer.
4. If this didn't solve the issue, please send us a support ticket and provide us with the following information:
- Error Message (Screenshot)
- Issue Start Date
- Your Location: City/State/Country
- Your ISP (Internet Service Provider)
- IP Address
- Operating System (Ex: Windows 7 64-Bit)
- Specific Channels and Servers you cannot connect to
We thank you for your patience and understanding.
- CrossFire Support Team