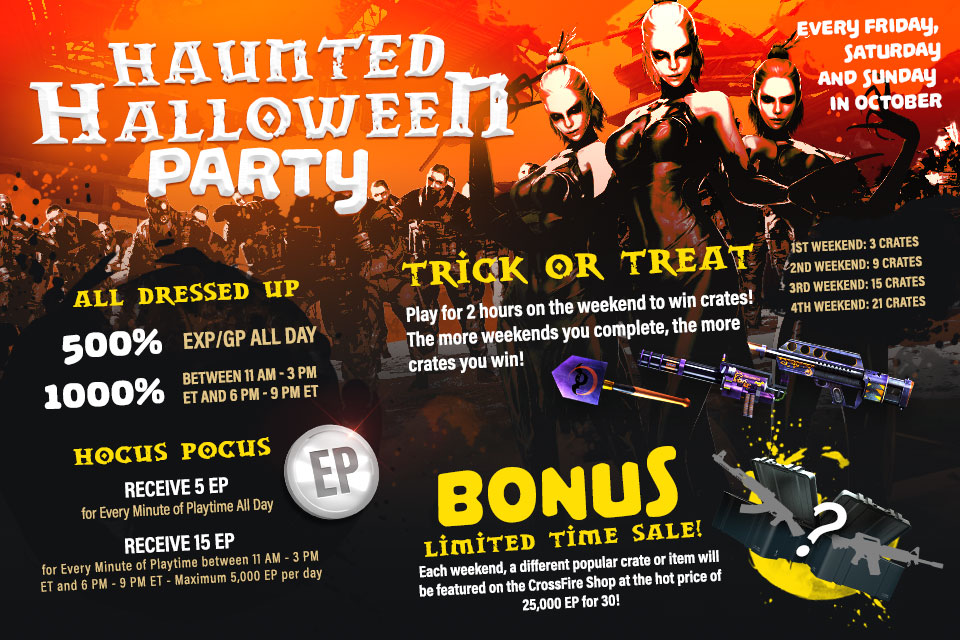 Attention Mercenaries,

Get your costumes on and your treat bags out... 'cause it's time for a Haunted Halloween Party!


Every Friday, Saturday and Sunday in October, get even more bonus EXP/GP, lots of EP to spend in the CrossFire Shop, and Halloween Mega Crates--just for playing on the weekend!
The special weekend sale rages on in the CrossFire Shop! Enjoy popular crates and items at great prices--just 25,000 EP for 30!
One new popular crate or item will be featured each weekend!
Check out the CrossFire Shop
HERE.
You can track your event progress
HERE.
*Maximum 5,000 EP total per user per day. If you miss a weekend of 'Trick or Treat', the next weekend you complete will count as the next in your sequence--so make sure you complete them all to get the most crates possible!

Enjoy, mercenaries!


--CrossFire Team