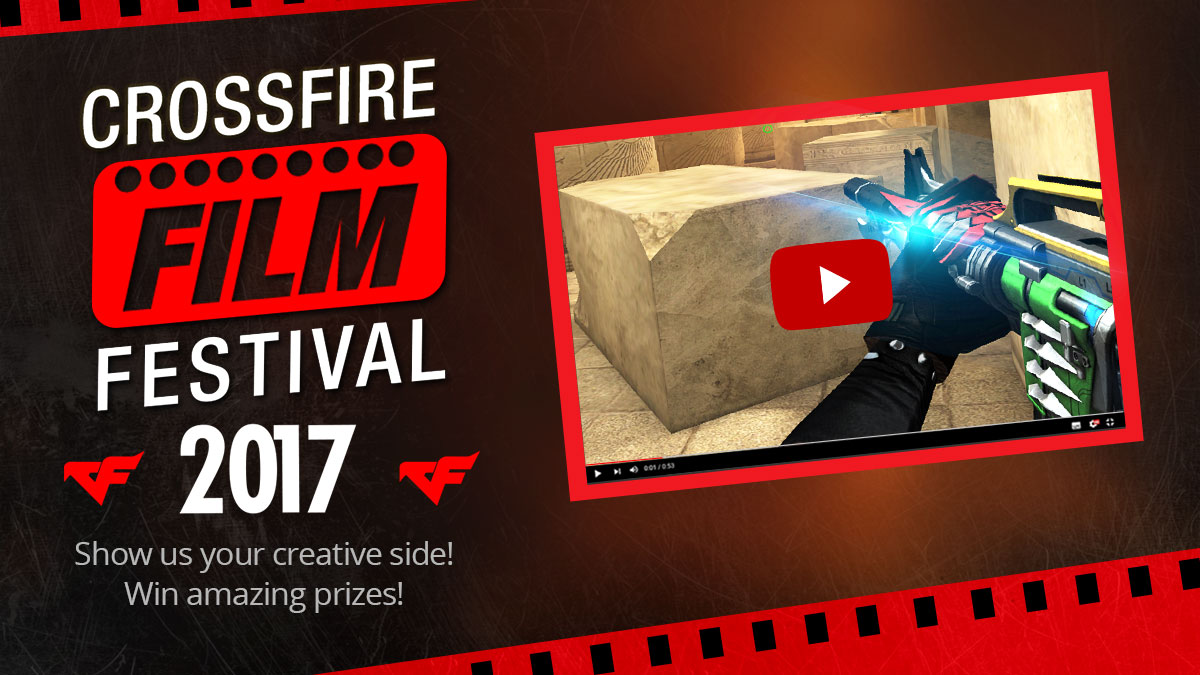 Attention Mercenaries!
We are happy to announce the return of the
CrossFire Film Festival
this
July 2017
!
Get your creativity flowing, because this year
we have made some changes to the categories
!
This year's categories give you a more flexible approach to your video design
! We have strayed away from genres and made more generic categories!

CATEGORIES:

Each player may submit 1 video per category to the following submission categories:
(You may only win 1 time)
Best Kill Reel

- Want to show off your skills? This category may be for you, create a video inspired by epic kill streaks, headshots and pro game play!


Best Team Work

- Ever want to make a clan video but needed some incentive? Or perhaps you and your friends work really well together and want to show off your skills in a skit or montage. Hop on the friendship train and show off your team work and friendship, in a video inspired by this category!


Best Editing & Effects

- Is video editing your passion? Do you like to emphasize the 'wow' factors in your films and really capture the audiences attention? Show off your creative skills in this category by adding special effects and editing your film to really boost the hype and action of your film. This can be story based or montage based.


Best StoryLine

- Turn your CrossFire game play into a storyline. It can be any genre- horror, action, romance, sci-fi, comedy you name it. If it has a story, this category is for you! Creative writers do not miss your chance with this category!


Best Variety Show

- Show us CrossFire as whole, we want to see mode variation, weapon variation, zombies, mutants, ghosts, varieties of maps. Show us the true spirit of CrossFire in this category all in 1 epic film, the more you show the better your chances to win this category!



PLAYER'S CHOICE AWARD:



We are also giving

YOU

a chance to vote on your favorite video.
Once all the videos are submitted, we will give you a look at a handful of videos and you will provide 1 vote for your favorite film.
The winner of this category will win the

Player's Choice Award.

Player's choice Award voting will run from

August 9th - August 16th


The link to the thread will be provided

HERE on August 9th

, and there will be a poll to vote for your favorite video.
Winners will be announced After August 16th


***Note: Do not submit your video to this category. We will select the videos eligible.




Before you jump to start filming, lets go over the basic rules. If your video violates any of the rules it will be disqualified-



RULES:
- No Copyrighted material,
no copyrighted clips, sounds, music. If you do not own it, don't use it.
- Videos must be under 5 minutes in length.
- Each player may submit

1 video per category

for a total of

5 submissions.

If you do submit more than 1 per category the first video will be reviewed, and the rest will be ignored.
- Videos must be

uploaded to Youtube publicly

. with the hashtag #CFFF2017 in the title.
- Videos must have an

upload date within July 2017

, no reusing videos from previous years!
- Please

submit all videos as a ticket to CrossFire Support - CrossFire Film Festival 2017

, please state your

category

and provide the

YouTube link

to your video.
-All videos must be submitted by July 31st, 2017!



REWARDS:



Winners of the above categories and player's choice award will win:

A Permanent Weapon of their choice!
(excluding Noble Beast Weapons)

The Crossfire Film Festival Ribbon!

Submit your entry

here!


(Please include your Category and YouTube Link with the hashtag #CFFF2017 in the YouTube title. )


And that about wraps it up! Best of luck everyone- happy filming!

-CrossFire Staff



***Congratulations to our Winners for CFFF2017! ***

The GM Team has finally reviewed all the videos submitted. It was a tough decision, but we have finally concluded the voting. Thank you to everyone who took the time to participate, we truly have such a talented community.


BEST KILL REEL
Congratulations
-TTL]Sh0GuN-


BEST EDITTING & EFFECTS
Congratulations

i

]S[killzZ-


BEST STORYLINE
Congratulations Cherish


BEST TEAM WORK
Congratulations CFFilmFest


BEST VARIETY SHOW
Congratulations Reus

*** We'd also like to give a GM Choice award to the following player, who will also receive a weapon of their choice and the Crossfire Film Festival ribbon: ***

GM Choice Award
Congratulations CrowCudjoe


Winner's please check your ticket shortly for a response from the Support Staff.

Please don't forget to vote for your favorite Player's choice video. Please vote on the poll provided
HERE.